Loaded Fry Bread
Auntie's original recipe beef and bean chili made with our unique blend of spices. Topped with Lettuce, Cheese, Tomatoes, Onions.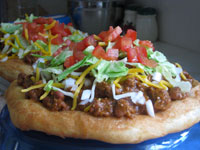 Tender Slow Cooked BBQ Beef or chicken in Auntie's special BBQ Sauce. Topped with our tasty original recipe coleslaw.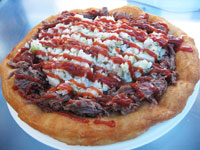 Grilled Chicken drizzled with ranch dressing on a bed of black beans with with The Works.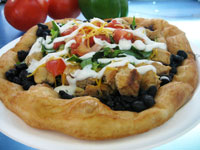 A medley of grilled squash, Onions, and corn over a bed of black beans with "The Works."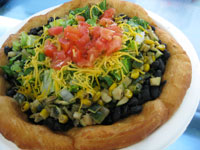 Favorites
Served with choice of honey, butter, powdered sugar, cinnamon sugar, chocolate, caramel, strawberries n syrup, or naked.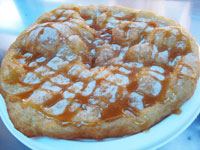 Or try our newest creation, the GBC
(garlic, butter, cheese)
Garnished with cheese and onions.
Sioux City Sarsaparilla - Only the best! Sarsaparilla is a creamy, sweet root beer beverage with it's own kick. We love it and it's a perfect complement to a fry bread taco. Available in Regular or Diet.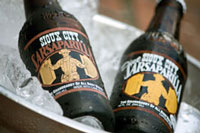 Delicious Buffalo Jerky made the old way with bits of cranberry and spices blended in. Really good! Made by Tanka, a small company on the Pine Ridge Reservation in South Dakota.
Coleslaw, Black Beans, Grilled Veggies